Upcoming CME
---
26th Annual Southwestern Conference on Medicine
April 27, 2017 - April 30, 2017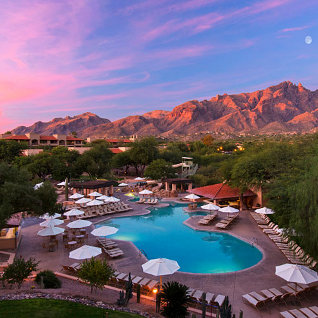 26th Annual Southwestern Conference on Medicine
April 27-30, 2017
The Westin La Paloma Resort & Spa
3800 E. Sunrise Dr.
Tucson, AZ

Presented by


in Joint Providership with

30 AOA Category 1A Credits
30 ACCME PRA Category 1 Credits(tm)
30 AAFP Prescribed Credits
30 AAPA Category 1 Credits

Downloads
Final Agenda
Conference App
Participant List as of April 25
Brochure

Regular registration rates through April 26, 2017: Scroll to bottom and click Register to sign-up online.
Active Physicians: $575
Semi-Retired, Retired Physicians: $475
NPs, PAs: $475
Residents, Fellows: $50

Onsite registration rates:
Active Physicians: $625
Semi-Retired, Retired Physicians: $525
NPs, PAs: $525
Residents, Fellows: $50

The room block offering the special $209/night rate has closed. There may still be some rooms available at a higher rate. Please call The Westin La Paloma Resort & Spa directly at (520) 742-6000 to inquire about availability.

Presentation Downloads (Faculty whose presentations are included below have given permission for sharing for your use during this event only. Click on the Faculty name to view. If presentations are not available, the faculty either have not submitted final presentations yet, or have chosen not to share them.)
Thursday, April 27
Exercise Related Injuries Geoffrey S. Landis, DO
Pain Management: Appropriate Opioid Prescribing & Integrative Treatment Methods Estelle R. Farrell, DO
Concussion Donald E. Porter, MD
Women & Heart Disease: Is There a Sex-Difference? Martha Gulati, MD, MS, FACC, FAHA
Updates in Women's Health 2017 Jennifer Howell, DO, FACOOG; Robert J. Kahler, MD, FACOG
Cardiometabolics in Pediatrics Stanley J. Goldberg, MD
Attacking Back Pain: The Various Methods & Modalities for Addressing Back Pain in Primary Care Thomas A. Coury, DO; Stephen L. Curtin, MD
Friday, April 28
Approach to Thyroid Disorders from the Primary Care Perspective Kevin M. Pantalone, DO, FACE
Substance Use & Mental Health Disorders Shabnam I. Thompson, DO
Diabetes Update 2017 Kevin M. Pantalone, DO, FACE
Atherosclerosis: Future Clinical Challenges Robert J. Chilton, DO, FACC, FACOI
Parkinson's Disease: Clinical Advancements & Strategies for Care Scott J. Sherman, MD; Robert Snyder, MD, PhD, PC; Becky G. Farley, PhD, MS, PT
From Mercy Ships to Shore: Volunteer Medicine Corinne M. McClaughry, MD
Back to Basics: Primary Care Dermatology Shannon Trotter, DO
Saturday, April 29
Pulmonary Hypertension Update Franz P. Rischard, DO
Hypertension Update Jonathan J. Taliercio, DO
Asthma & COPD Rachel M. Taliercio, DO
TB: An Emerging Public Health Threat CAPT Ha C. Tang, DO, USPHS
Antibiotics in Acute Care Fredrick M. Abrahamian, DO, FACEP, FIDSA
Transitions Through the Care Continuum: Discussions on Barriers to Patient Care, Communication, and Advocacy Stephen J. Ruffenach, DO, MS; Scott M. Bolhack, MD, MBA, CMD, CWS, FACP, FAAP; Patrick M. Noonan, DO; Karen Mercereau, RN, iRNPA
Ligamentous Articular Strain for Upper and Lower Extremities Conrad A. Speece, DO
Sunday, April 30
Zika Virus Fredrick M. Abrahamian, DO, FACEP, FIDSA
C. difficile Colitis & Advancements in Treatment through Research of the Microbiome Robert Orenstein, DO
Navigating Testosterone Replacement Therapies & Risks Sander Zwart, MD
Utilizing Technology & Medical Apps in Primary Care Practice COL Douglas Maurer, DO, MPH, FAAP; Additional Handout
Medical Informatics Stephen J. Ruffenach, DO, MS

Please call TOMF at (520) 299-4545 or email cme@tomf.org with any questions, concerns, or special requests.