Upcoming CME
---
28th Annual Southwestern Conference on Medicine
May 2, 2019 - May 5, 2019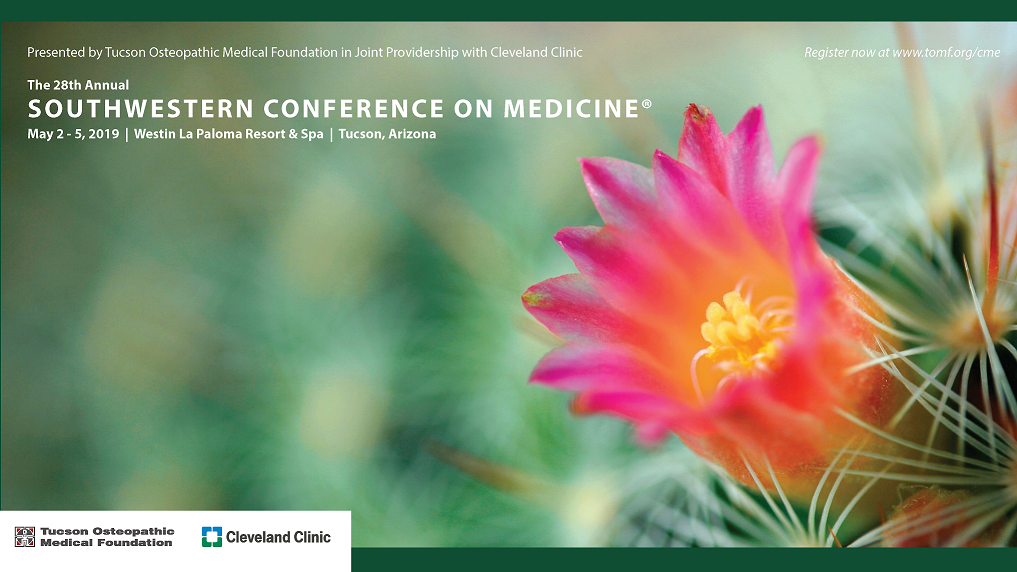 The 28th Annual Southwestern Conference on Medicine was proudly presented by Tucson Osteopathic Medical Foundation and Cleveland Clinic, May 2 - 5, 2019 at Westin La Paloma Resort & Spa, 3800 E. Sunrise Drive, Tucson, AZ 85718.
Links/Downloads
Agenda
Conference App
Participant List
Claiming Credit

PRESENTATION DOWNLOADS (Click on Faculty names below to download presentations. Updated and additional presentations will be uploaded as the Faculty make them available to us. Please note, not all faculty give permission for us to share their presentations.)

Thursday, May 2
Obesity: Surgical & Pharmaceutical Options - Guillermo Higa, MD; Harold E. Bays, MD
Diabetes: Perspectives in Endocrinology & Clinical Pharmacy - Harold E. Bays, MD; Amy Kennedy, PharmD
Vascular Surgery & Wound Care - MAJ William B. Harris, DO; Shana T. Hilson, MSN, ACNP-BC, CWS
Migraines - Sarah E. Sullivan, DO
Myths & Facts about Low Libido in Women - Nicola Finley, MD
Health Through Moderation in an Age of Extremes - Stephen C. Brewer, MD
Friday, May 3
Chronic Kidney Disease Management - Jonathan J. Taliercio, DO
Lung Cancer Update - Ronald J. Servi, DO
Structural Heart Disease for Primary Care - Timothy Byrne, DO
Echocardiography Advances for Primary Care - David S. Rubenson, MD
Getting Past Stuck Points: Communication Tools that Help Remove Barriers - Rachel M. Taliercio, DO
Improving Medical Care for LGBTQ Patients - Andrew Cronyn, MD; LGBTQ Resource List
Chronic Motility Disorders - Amy Foxx-Orenstein, DO
Inflammatory Bowel Diseases - Sasha Taleban, MD
Saturday, May 4
Systemic Vasculitis: A Review - Sheetal K. Chhaya, DO
Understanding & Preparing for Emerging Disease Outbreaks - CAPT Ha C. Tang, DO; CDR Reasol Chino, PharmD
Update on Opioid Rx in Arizona - Thomas A. Coury, DO; D'Arcy Downs-Vollbracht, JD
The Role of Orthopaedic Surgery in Sports Related Injuries - Geoffrey S. Landis, DO

Concurrent Sessions
The Role of OMM & Exercise Science in the Prevention & Treatment of Sports Injuries - Roger J. Mignosa, DO
Infant Safety - Sandra B. Herron, MD
Pediatric Toxicology - F. Mazda Shirazi, MD
Pediatric Development - Catherine S. Riley, MD
Adolescent Depression - Sally A. Boeve, MD

Sunday, May 5
Pre-Participation Sports Physicals - Jonathan Minor, MD
Concussion - Mohammed R. Mortazavi, MD
The Pain of Trauma, the Trauma of Pain - Bennet E. Davis, MD
Suicide - Ole J. Thienhaus, MD; NYT Suicide Article
A Comprehensive Approach to Pain Management - Thomas A. Coury, DO

---
29th Annual Southwestern Conference on Medicine
April 23, 2020 - April 26, 2020
Save the date for the 29th Annual Southwestern Conference on Medicine, April 23-26, 2020 at Westin La Paloma Resort & Spa, Tucson, AZ.