Upcoming CME
---
OMT to Alleviate Cold Symptoms in Primary Care
November 4, 2023


Tucson Osteopathic Medical Foundation proudly presents..."OMT to Alleviate Cold Symptoms in Primary Care" - a free hands-on CME workshop designed to equip osteopathic physicians, residents, and medical students with the knowledge and skills to quickly and effectively alleviate cold symptoms using OMT in a busy primary care practice. Join us on November 4 from 8:00 am - 11:55 am at Tucson Osteopathic Medical Foundation, 3182 N. Swan Rd. in Tucson, AZ to develop your skills and enhance your ability to provide comprehensive care to your patients. A maximum of 3.25 AOA Category 1-A credits are available.
THIS IS AN IN-PERSON ONLY EVENT! THERE IS NOT A VIRTUAL/LIVESTREAM COMPONENT AVAILABLE!
Here's what you can expect at this workshop:
1. Review Anatomy: Dive into the anatomy related to various osteopathic manipulation treatments that target and alleviate cold symptoms. Gain a comprehensive understanding of the underlying mechanisms and how they can be leveraged to provide relief.
2. Hands-On Practice: Get ready to roll up your sleeves and put theory into practice. This event offers the opportunity to practice 5 techniques specifically tailored to alleviate cold symptoms on seated patients. Through guided practice overseen by our instructor, you'll master application of these techniques with precision and skill.
3. Create Customized Treatments: Discover the power of combining different treatments to create a variety of quick 3-minute treatments on patients in a seated position. Learn how to integrate these treatments into your regular office visit routines, enabling you to provide effective relief to your patients in a time-efficient manner.
4. Documentation: Go beyond treatment techniques and delve into the nuances of documenting physical findings, diagnoses, and the osteopathic manipulation treatments performed in the visit. Understand the essential elements to include in your documentation to ensure clarity, accuracy, and elevate continuity of care.
5. CPT Code Review: In today's medical landscape, understanding the correct CPT codes for reimbursement is crucial. In this event, you'll review the CPT codes associated with the OMT techniques performed. Ensure accurate billing and maximize reimbursement by mastering the coding aspect of these techniques.
Target Audience:
- Osteopathic Physicians: Enhance your practice and refine your skills in providing comprehensive care and relief to patients suffering from cold symptoms this winter.
- Osteopathic Residents: Gain valuable hands-on experience and deepen your understanding of osteopathic manipulation techniques in the context of cold symptom relief.
- Osteopathic Medical Students: Expand your knowledge base and get a head start in mastering these techniques, positioning yourself as a competent and empathetic healthcare professional.
Don't miss this opportunity to elevate your skills and integrate these techniques into your primary care practice. Registration is complimentary and space is very limited and available on a first come first served basis to only osteopathic physicians, residents and medical students. Register today to secure your spot at this live event. Registration closes on November 1, 2023 or once capacity is reached.
Tucson Osteopathic Medical Foundation (TOMF) is accredited by the American Osteopathic Association (AOA) to sponsor continuing medical education for physicians. TOMF designates this program for a maximum of 3.25 AOA Category 1-A credits and will report CME and specialty credits commensurate with the extent of the physician's participation in this activity.
The information in this educational activity is provided for general medical education purposes only and is not meant to substitute for the independent medical judgment of a physician relative to diagnostic and treatment options of a specific patient's medical condition. The viewpoints expressed in this CME activity are those of the authors/faculty. They do not represent an endorsement by TOMF. In no event will TOMF be liable for any decision made or action taken in reliance upon the information provided through this CME activity.
Access additional program information via these quick links:
Registration, Program Summary, Agenda, Speakers, Location, Planning Committee Members and Staff
---
2024 Southwestern Conference on Medicine®
March 21, 2024 - March 24, 2024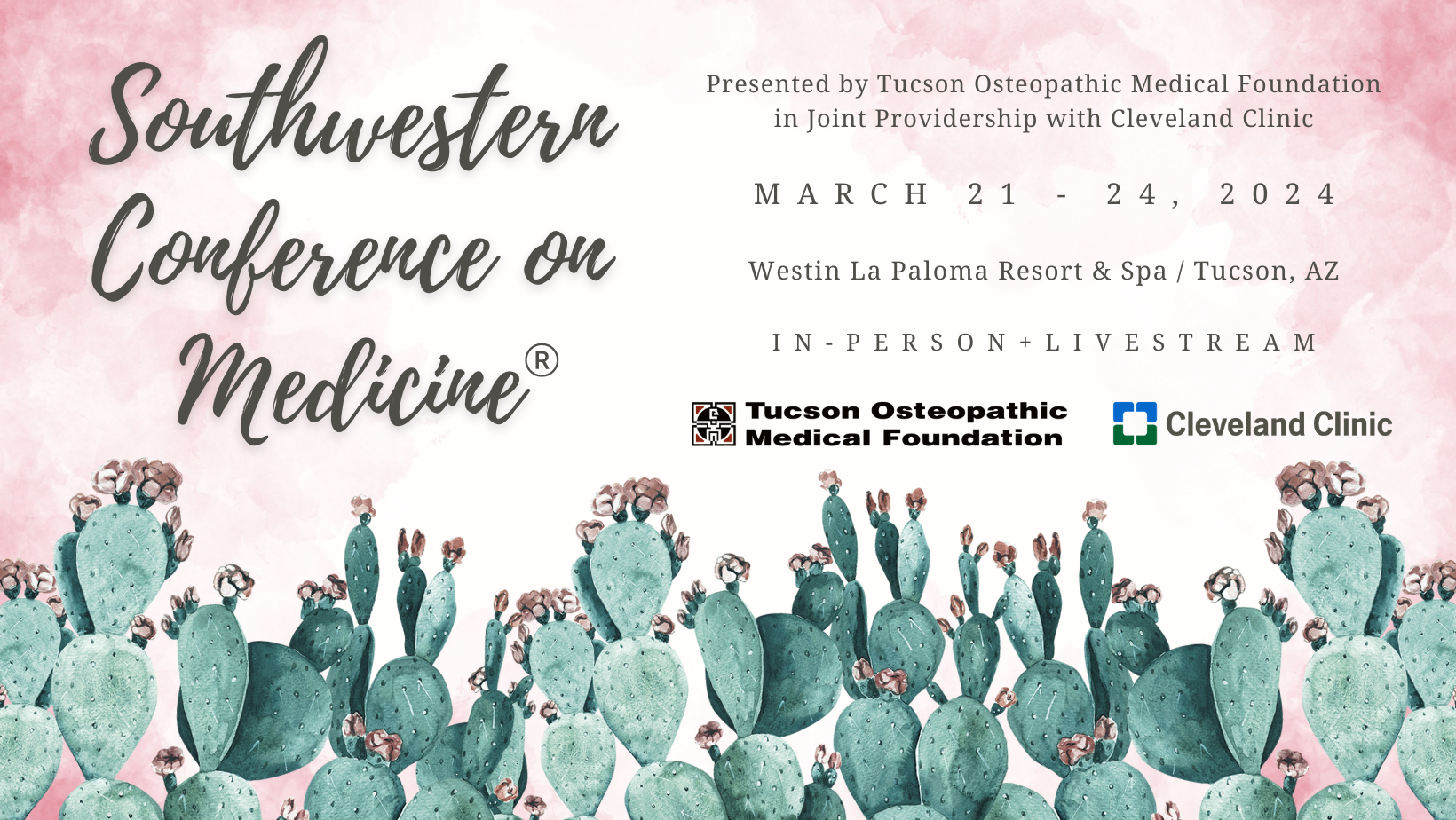 Join us for our 33rd year of high-quality and engaging primary care and family medicine continuing medical education!

The 2024 Southwestern Conference on Medicine is proudly presented by Tucson Osteopathic Medical Foundation in joint providership with Cleveland Clinic and takes place at the beautiful Westin La Paloma Resort & Spa in Tucson, AZ from March 21 - 24. The livestream will occur simultaneously.
Registration Fees (In-Person or Livestream)
Active Physicians: $600
Retired/Semi-Retired Physicians: $525
PAs & NPs: $525
DO Residents: $150

This activity has been approved for AOA Category 1A Credit.
This activity has been approved for AMA PRA Category 1 CreditTM.
We anticipate a maximum of 30 credits.*

*While credits should only be claimed for participation in the live activity (either via in-person or livestream participation), all registrants will have access to recordings of the Conference for playback and review for 45 days after the live event concludes. The credit claiming period will also remain open for 45 days after the Conference concludes.
REGISTRATION, DRAFT AGENDA, & ROOM BLOCK COMING SOON!