---
Bridget Botsford, OMS III at BCOM Wins $15,000 Founders' Scholarship from TOMF
June 14, 2023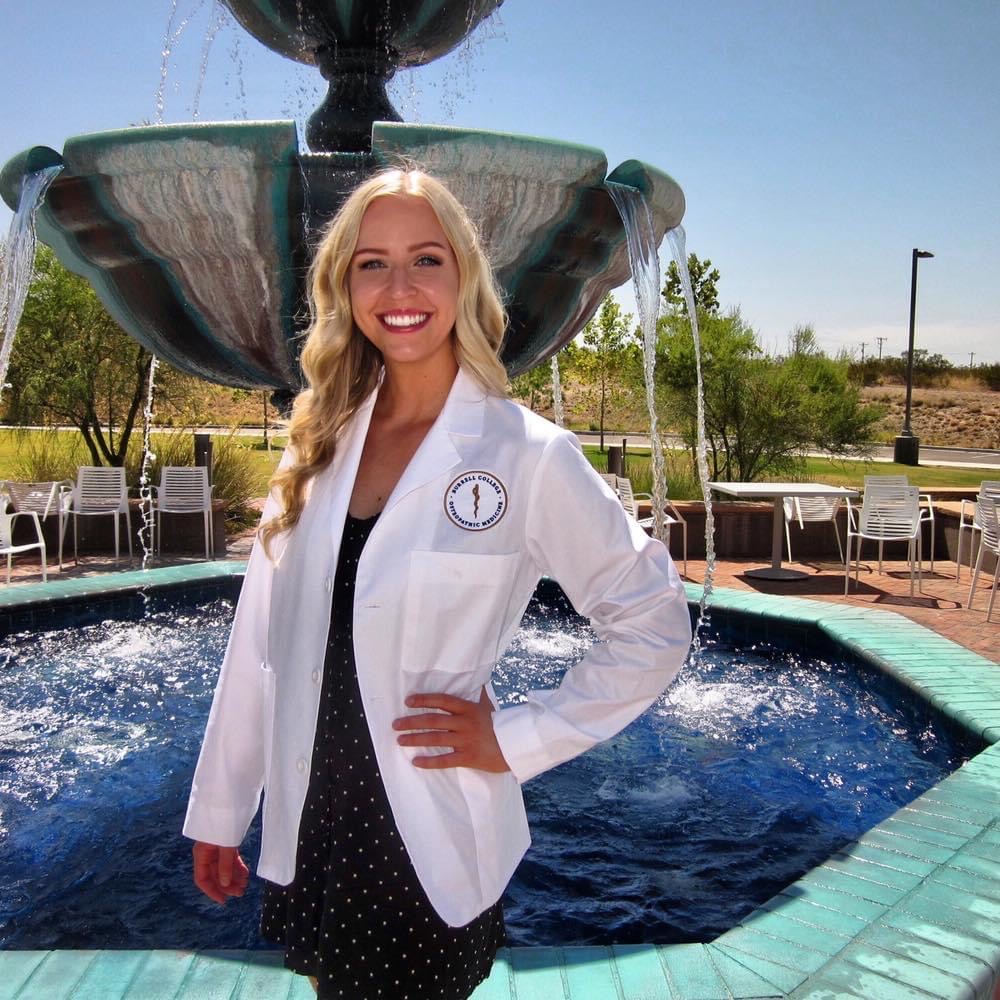 In December of 2019 I graduated with summa cum laude distinction from Northern Arizona University. I earned a Bachelor of Science in Biomedical Science and received minors in Spanish and chemistry. I worked as a research assistant at The Translational Genomics Research Institute in Flagstaff, Arizona where I worked on various public health projects. In the beginning of 2020, my team and I isolated and sequenced the first COVID-19 positive sample in Coconino County. Since enrolling at the Burrell College of Osteopathic Medicine (Burrell) in the summer of 2020 I have been involved in a national initiative to promote diverse volunteer experiences amongst DO students called The Translating Osteopathic Understanding into Community Health Program. I was awarded a gold badge twice for my volunteer hours and am on track to receive that recognition again this year. While at Burrell I served as the director of community outreach for a successful nonprofit called Protect NM-LC with a mission of providing personal protective equipment to people in the southwest during the COVID-19 pandemic. In 2021 our group met with members of New Mexico Senator Heinrich's staff to advocate and raise funds to support our community. I also served as president of the Family Medicine Interest Group where I completed a grant application through the American Academy of Family Physicians and published a Burrell student update for the New Mexico Academy of Family Physicians' spring newsletter. I am proud of the accomplishments I have achieved and look forward to future opportunities.

1. Where do you consider home to be?
Phoenix, Arizona
2. What do you love about the Southwest?
Having lived throughout Arizona and in New Mexico I have found some similarities that contribute to my love for the Southwest- the beautiful mountains, kind people, warm winters, variety of food and different cultures.
3. What is your favorite thing to do in your (very limited!) free time?
One thing I absolutely prioritize in my limited free time is exercise. I really enjoy any kind of movement whether that be a Pilates class, weight lifting session or hike. I also enjoy visiting local farmers markets.
4. How did you discover you wanted a career in medicine?
When I was in high school I fell in love with science while taking my first anatomy course. I was so fascinated by the human body and wanted to learn as much as I could. In college I volunteered in hospice care and saw the direct impact of my patient interactions on people's lives and knew I wanted to become a physician.
5. Who has been the most influential person throughout your journey as a medical student?
My dad has been the most influential person throughout my journey in medical school. When I was a kid I watched him go back to school while juggling the task of raising my sister and I. Not a day passed where he wasn't putting in his full effort to achieve his goal of becoming an echocardiograph technician. I have always looked up to him and am so proud of what he has accomplished. While studying for hard exams or pushing through tough times in school, I remind myself of my dad's story and am inspired to keep fighting for my dream.
6. Which specialty do you plan to practice?
The two specialties I have been most interested in are obstetrics and gynecology and family medicine.
7. What advice would you give to someone considering medicine as a career?
The best advice that I can give to someone considering medicine as a career is to make sure that they cannot see themselves doing anything else as a career. Pursuing a medical degree is not an easy journey and a genuine passion for this profession and healing others is absolutely necessary to get through the hard days.
8. What is the most interesting thing you've discovered so far in your medical training?
The most interesting thing I've discovered so far in my medical training is the power of listening. You truly never know what someone is going through and your quick patient encounter may be their only interaction for the day. Sometimes a physician's ability to diagnose complex illnesses or perform complicated surgeries might not be as impactful as simply listening to the patient and being truly present for them.
9. What excites you about becoming a physician?
I am most excited to build meaningful relationships with patients and use my knowledge to help improve the lives of others. I am very passionate about continuity of care and am excited to follow my future patients through many of life's milestones.
10. What led you to pursue osteopathic medicine as opposed to allopathic medicine?
When I was in college I shadowed an osteopathic family medicine physician who completely changed my perception of medicine. Seeing how she used her hands to promote patient healing was inspiring. How I envisioned myself practicing medicine aligned with the philosophy of osteopathic medicine so it was an easy decision to make.
11. What do you think the future of medicine looks like?
While there is a lot of work to be done, I am hopeful that the future of medicine will be one that is more inclusive and accessible. I would like to see patients continuing to be at the center of care and to receive that care free of judgment. I am proud to see the accomplishments of fellow medical students in promoting advocacy and diversity in this field which excites me for what we are capable of in the future as physicians. As the number of osteopathic physicians continues to increase, I also hope to see osteopathic manipulative treatment utilized more frequently.
12. How has COVID-19 impacted your training?
I started medical school during the summer of 2020 and my experience was absolutely impacted by the pandemic. During the first year we almost immediately had to adapt to virtual learning which was completely new for some of my classmates. It was hard for students to socialize with one another so it became a pretty isolating experience. Our school did the best they could navigating this uncharted territory, and I was inspired to see our Burrell community jump into action with vaccine drives and PPE donations.