---
Ron Tang, OMS III at AT Still University-SOMA Wins $15,000 Founders' Scholarship from TOMF
February 21, 2023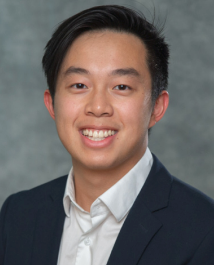 Meet Ron Tang, a third year medical student at AT Still University-SOMA and winner of a $15,000 Founders' Scholarship from Tucson Osteopathic Medical Foundation!
At the University of Arizona Honors College, I studied Physiology and Psychology, excelling with a 3.85 GPA while being heavily involved in clinical research. My thesis research investigated important socioeconomic determinants of healthy sleep cycles and my research paper titled "Drowsy Driving in Student Athletes: Impact of Insomnia, Sleepiness, and Mood." was published in the Oxford Academic SLEEP Journal. As first author, I presented a research poster at the University of Arizona Sleep Medicine Lecture Conference. Additionally, I was selected for the Global Medcats Summer Fellowship in Toledo, Spain and taught English language to Spanish-native doctors and students while having the opportunity to shadow the physicians in their hospital.

After graduation, I stayed in Tucson, Arizona to work as a medical scribe alongside osteopathic and allopathic physicians at the Quality of Life Medical and Research Center for pain management and primary care. At ATSU-SOMA, I've continued prioritizing my education. Maintaining a GPA in the top 20% of my class, I was selected to join the Sigma Sigma Phi National Honor Society and help further the Science of Osteopathic Medicine. I am also a scholar in the WI CHE-Professional Student Exchange Program, which aligns with my interests to return back to and serve in Arizona after graduation. Lastly, I served as Co-President of the Asian Pacific American Medical Student Association and as a Student Ambassador at ATSU-SOMA which allows me to promote osteopathic medicine and our school's mission of creating the next generation of osteopathic physicians.

Where do you consider home to be?
I consider home to be where my purpose is.

What do you love about the Southwest?
Growing up in Arizona, I fell in love with the beautiful sunsets, year-round outdoor activities, and the diverse population of Phoenix and Tucson. Also, the ability to have spontaneous road-trips to neighboring states like California are a major plus.

What is your favorite thing to do in your (very limited!) free time?
I enjoy using Classpass to do many different types of workouts: hot yoga, boxing, HIIT, and meditation/breath work. I also like to listen to audible books and song write with piano/guitar.

How did you discover you wanted a career in medicine?
Growing up playing basketball, I witnessed many minor and major injuries. I became fascinated with the human anatomy and the processes that occurred while an athlete was in rehab, both physically and mentally. Over time, this passion for injury recovery morphed into helping a person achieve their optimal health.

Who has been the most influential person throughout your journey as a medical student?
I have had many impactful people throughout my medical journey. Some notable mentors include: Dr. Cohen, Dr. Grandner, Dr. McGettigan, Dr. Grady, Dr. Chu, Dr. Allgood, and Dr. Cates. I also credit my mom, dad, and older brother to support me throughout this whole journey.

Which specialty do you plan to practice?
My top specialties I am interested in are Psychiatry and Family Medicine with a Fellowship in Sports Medicine.

What advice would you give to someone considering medicine as a career?
Stay in the moment. Don't dwell on the past as mistakes are a part of the process. Learn from it. On the other hand, don't become fixated on the future as there are things that are out of your control. Lastly, enjoy every step along the way, the good and the bad.

What is the most interesting thing you've discovered so far in your medical training?
I've discovered that some of the most impactful things you can do for your patients are outside of the clinic/hospital and in your community. As Co-President of Asian Pacific American Medical Student Association, I helped address unique health challenges of Asian and Pacific Islander American (APIA) patients by coordinating APIA physician seminars, community meal distributions through Tzu Chi Foundation, and service events like Bone Marrow Drives.

What excites you about becoming a physician?
I am most excited to touch the lives of my patients and allow them to reach their optimal health. I truly believe that good health is a step towards happiness.

What led you to pursue osteopathic medicine as opposed to allopathic medicine?
I pursued osteopathic medicine due to its whole-person approach and ATSU-SOMA's mission of serving the medically underserved.

What do you think the future of medicine looks like?
I strongly believe that the future of medicine will have more of a holistic model of care and mental health and wellness will be much more emphasized. Additionally, with technology advancing the way it is, I would not be surprised if artificial intelligence is incorporated into clinical decision making tools and electronic medical records.

How has COVID-19 impacted your training?
COVID-19 has moved our classes online while labs were converted into a small, hybrid format with a restriction on the number of people in each classroom. With these unfortunate circumstances and non-traditional learning methods, it has taught the importance of adaptability. This trait will ultimately help us as physicians.